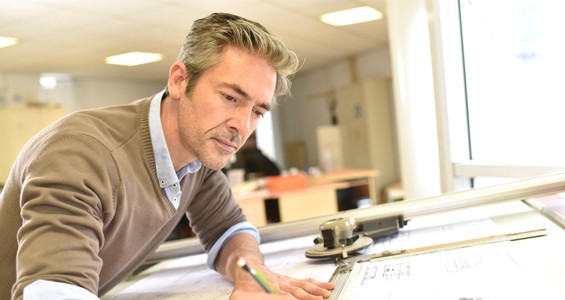 Architects and the Need to Ensure Preferred Building Contracts Comply with Building Laws
By Justin Cotton, Director, Lovegrove & Cotton – Construction and Planning Lawyers
It is common practice in the building industry, particularly with more "high end" residential construction, for the Builder and Owner to enter into "Architect Administered" domestic building contracts.
In such contract arrangements, the Architect (who is usually also the designer for the project and involved in the tender selection process for a Builder) will be the assessor of progress payment claims, variations, extension of time claims and the resolution of defective work items.
The need for Architect administrators to both act as an agent for Owners in one sense, and to be a neutral and impartial claims assessor on the other hand, has been the subject of previous articles.
Needless to say, an Architect administered contract will usually mean one that has contractual protection and a defined role for the Architect (even though the Architect is not actually a party to the contract). Therefore the Architect as a project administrator that an Owner defers to, will have some say on what form of contract agreement is used.
Architects practising in Victoria need to be aware of recent changes to the domestic building requirements with the introduction of the Domestic Building Contracts Regulations 2017. These new regulations (replacing the 2007 version) took effect in part from 22 April 2017 except for some important aspects that will be phased in on 1 August 2017.
As always the legislation (including any regulations) that governs domestic building in Victoria is focussed to a large degree on consumer protection. Obviously many Owners under building contracts are not "mum and dad" owners and are in fact developers, however, that does not change the consumer focus protection in many of the legislative requirements.
he need to ensure Architects are fully abreast of the changes is to ensure they only promote or recommend the use of domestic building contracts that are up to date and current. This is because if a contract agreement the Architect is recommending for use is not fully in accordance with all Victorian legislation criteria including the Domestic Building Contracts Act 1995 and the recently amended Regulations, then the following problems could arise:
(i) The building contract could be void or unenforceable between the parties, at least to the extent of any inconsistency with the legislative requirements; and
(ii) The Builder under the contract could be subjected to penalty fines or other disciplinary action for not using a compliant domestic building contract.
An Architect may not be subjected to the disciplinary censure for use of a non-compliant contract, as indeed a Builder would. Nevertheless a party to the contract could potentially seek civil redress against an Architect if perchance a contract was later found to be void or unenforceable and that contract (in that form) had been used at the Architect's insistence.
If an Architect is project managing or administering a building contract, it is common in Victoria that the Builder and Owner (the Architect's client) sign an ABIC form of contract (Australian Building Industry Contracts).
This form of domestic building contract is published by the Australian Institute of Architects in conjunction with Master Builders Australia, and has a defined role for an Architect to administer the contract and building works.
Examples of commonly used forms of agreement are the ABIC Simple Works Contract for Housing in Victoria and the ABIC Major Works Contract. There are unique aspects of these agreements not found in standard domestic building contracts where no Architect is engaged, for example:
The Architect is assessing and making determinations on progress payment claims, variations and extension of time claims (as mentioned above);
There is a definition of "Practical Completion" (which effectively means substantial completion and then defect rectification) rather than just "Completion" – being the finishing of works in accordance with the plans and specifications and an Occupancy Permit having issued;
The Architect must issue notices to the Builder on behalf of the Owner in regard to such matters as variation claims and directions to rectify defects, and also is responsible for issuing a "Final Certificate" after the end of a defect liability period.
Obviously the ABIC contracts are intended to comply with all legislative requirements including the current Domestic Building Contracts Regulations. There is no option, as it is not possible to "contract out" of the legislation.
Anecdotally in Victoria there are still instances where Builders are being required by Architects to sign ABIC contracts that are not fully up to date. This is an impost on Builders because they are in a position where they will be responsible in a disciplinary sense to ensure that the building contract fully complies with all legal standards.
A primary example of this is where ABIC contracts have been provided by Architects for use that have not been updated to include the current version of the Consumer Checklist that must be included in every major domestic building contract in Victoria. If the Checklist does not contain a reference to the Domestic Building Consumer Guide, then it is out of date.
Another deficiency is where the ABIC contract does not include a copy of the Domestic Building Consumer Guide that must be given to Owners before contract signing.
Therefore Architects and Builders alike should ensure that the Checklists accompanying ABIC contracts are the current Checklist, and include a copy of the Domestic Building Consumer Guide as part of the contract agreement document (or ensure it is given to the Owner before signing).
In regard to the statutory penalties a Builder can be fined up to 50 penalty units (currently $7,773) if the Checklist is out of date and 60 penalty units (currently $9,327) if the Builder does not give the Owner a copy of the Guide
Both Architects and Builders should ensure that ABIC contracts used from now on do not fall foul of any other changes recently made to the Regulations. The changes are not wide ranging but more could be "around the corner".
If in any doubt about your rights and responsibilities in regard to building laws, do not hesitate to contact experts in construction law, dispute resolution and contract advice.
Lovegrove & Cotton Lawyers to the building industry
For thirty years, Lovegrove & Cotton have represented builders, building surveyors and building practitioners in Melbourne, Canberra, Sydney and Queensland. Doyles Guide ranks Kim Lovegrove as one of the leading construction lawyers in Australia. Justin Cotton, likewise, is a leading Australian construction lawyer and widely respected in the building fraternity as evidenced by his recent elevation to Chairperson of the HIA Industrial Relations and Legal Services Committee, and member of the Regional Executive Committee, for HIA Victorian Chapter. Lovegrove & Cotton can help practitioners resolve any type of building dispute and are preeminent in the area of building practitioner advocacy. If you wish to engage the firm, feel free to contact us via our website or by emailing enquiries@lclawyers.com.au.