Model Building Approval Processes for Consideration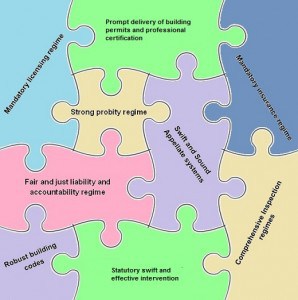 Paper presented by Kim Lovegrove FAIB, Chairman for Best Practice Building Control and Senior Lawyer at Lovegrove Smith & Cotton.
Forum: Reforming Business Regulation in India – 2016 Reform Champions Workshop.
Hosted by the Department of Industrial Policy and Promotion of the Government of India and the World Bank at New Delhi, India.
Date: 22 & 23 September 2016.
THE BASICS OF BUILDING CONTROL
1. Regardless of the jurisdiction a sound building control regime should deliver the following outcomes:
Structurally sound buildings;
Buildings that are immune to the elements i.e cold, draft, heat, wind and tempest- be it disaster such as earthquake or flood or more moderate and less extreme forms of tempest;
Warmth in the cold season and temperate air conditions in the hot season;
A working or living environment that is devoid of danger such as building collapse, toxic contamination, electrical or sanitary system failure;
Sufficient amenity to enable people to live with a reasonable level of comfort, an enjoyment of internal community and amenity, to prepare food and by virtue of the sanitary system to safely migrate human debris and waste and have sound plumbing and water supply systems;
The buildings need to have the ability to last for many years and need to be capable of being constructed in a cost effective fashion. This means a sensitivity to construction techniques and use of building materials that are available locally, which is both prudent and conducive to maintaining sustainability.
HOW CAN A REGULATORY SYSTEM DELIVER THE BASICS?
2. The building regulatory regime must be holistic. The holistics will include the following key elements:
Building codes and technical regulations.
The codes will be fashioned and designed to ensure that the above mentioned objectives, albeit in greater detail, are delivered in the drafting and promulgation of the technical code(s). The technical codes must be called up in an umbrella Act of Parliament to give them legal effect.
Umbrella Legislation
Dedicated Acts of Parliament must be proclaimed to promulgate the holistic regulatory architecture that dictates the way the building control 'echo system' as it were, will operate. The building control regime will include the following key elements:
(a) The Building Approval Process
Mandatory Inspection phases where at key construction junctures the building official will carry out inspections to ensure that, that which is being constructed complies with the building permit and approved documentation.
Once the building is completed the legislation would provide for a final inspection to ensure that the building official would either approve or reject the application for occupancy certification.
The issue of the occupancy permit would also trigger the beginning of the liability period for the initiation and conclusion of legal proceedings so that, 10 years hence, one could not initiate legal proceedings for construction failure.
(b) The Enforcement Processes
Central and absolutely critical to the viability of any building control regime must be the establishment of enforcement processes designed to ensure that building codes can and are followed. A failure to do this will mean that there is a high chance that building codes will not be implemented with the net result being compromised building outcomes and the higher risk of building failure, economic prejudice and risk to life or limb.
In best practice legislation regardless of the jurisdictional context there will be sophisticated and effective enforcement regimes. Typically these will ensure that the building official can issue Building Notices, Building Orders and Emergency Orders to compel compliance. There also needs to be a strong linkage with prosecutorial bodies that can fine, reprimand, visit punitive damages upon non conformists and in the most heinous of circumstances facilitate criminal censure.
LICENSING & REGISTRATION
3. One of the best ways of developing a strong enforcement and accountability regime regardless of the jurisdictional setting is to have a mandatory licensing and registration regime for key building practitioners such as engineers, architects, designers, building officials, commercial builders, residential builders, electricians and plumbers.
4. Compulsory registration of building practitioners that come within the jurisdiction of a registration and licensing body generates a critical mass of skilled construction operatives. These actors on the one part need to satisfy the licensing board that they have the requisite skills to become artisans of construction excellence. On the other part in circumstances where they prove to be recalcitrant or problematic, they can be brought to account by virtue of the disciplinary arsenal embodied in the legislation.
5. One of the best ways to deter building practitioner recalcitrance is to have the ability to take their license away.
COMPULSORY INSURANCE AND PROPORTIONATE LIABILITY
6. In jurisdictions such as Victoria, one of the states of Australia, there has existed for nigh on 20 years a regime where all building practitioners, some 25,000, have to be registered and licensed as a prerequisite to practising as a building practitioner. In many jurisdictions in Australia, building practitioners come under the jurisdiction of Building Practitioners Boards that dictate the entry criteria and the criteria that forces expulsion in circumstances where those whom are not fit to practice are expelled from the practitioner fraternity.
7. By law all practitioners in jurisdictions such as Victoria, Australia have to be insured. Absent an individual's ability to get insurance he or she will not be able to practice as a registered building practitioner.
8. The mandatory insurance regime was also introduced to facilitate the introduction of proportionate liability. Proportionate liability was established to remove the doctrine of joint and severable liability (JSL). Under JSL, local government invariably picked up the liability for construction failure by virtue of the high risk of insolvency that often emanated from construction failure.  Regardless of jurisdiction it is increasingly becoming impossible for local government to pay for construction failures wherein so doing municipalities assume the liabilities and financial accountabilities for impecunious co-defendants or men of straw.
9. The introduction of compulsory insurance and proportionate liability obliterates the vagaries of the doctrine of JSL as liability is shared and damages are visited upon each one of the principal actors responsible for construction failure.
10. I headed up the team that produced the National Model Building Act in the early 90's in Australia, that Model Act introduced proportionate liability. Although initially the doctrine was limited to the Building Industry, by the beginning of the third millennium it became the uniform liability and proportionate liability doctrine in Australia. Proportionate liability is the liability apportionment creed for today and for tomorrow.
11. Indian policy makers may well wish to give the 'trifecta' of mandatory licensing, mandatory insurance and proportionate liability serious consideration because India already would have the critical mass of building practitioners to accommodate mandatory licensing regimes. If certain Indian jurisdictions were to introduce proportionate liability a great many insurance companies would be very excited about finding their way into the Indian construction and professional indemnity insurance market.
POLICING OF BUILDING CONTROL – THE EMERGENCE OF USER PAYS, PRIVATE CERTIFIER POLICING AND PROBITIVE REGIMES
12. The key factor that will determine if building control regimes will succeed or fail revolves around the notion of whether the codes are followed and the law applied. A laissez faire or light touch approach to building enforcement is a pretty good way of ensuring that the risk of failure in given scenarios will be much higher. It is my utmost view that it is paramount that legislation showcases robust building control and enforcement regimes.
13. The pivotal actor in this equation I submit is the building official, often referred to as the building surveyor. This is the person who determines whether building design proposals comply with the technical codes and standards and where he or she is satisfied that the design complies, a building permit is issued. This is also the person who determines whether ultimately an occupation permit should be issued or withheld. Also this is the regulatory medium by which enforcement orders and prosecution recommendations find expression.
14. In most jurisdictions in the world, the building officials are exclusively domiciled in local government.
THE EMERGENCE OF PRIVATE CERTIFICATON
15. Australia and Japan in the mid 90's introduced a new actor i.e the private building surveyor.  The private building surveyor can do exactly what his or her counterpart can do in local government and likewise has to be qualified. In the case of Australia, he or she must have a degree in building surveying, must be insured and must come within the jurisdiction of the registration body.
16. Even though there has been some controversy about private certification in Australia, the fact remains that the new system that has been in existence for more than 20 years will never revert back to local government because local government cannot afford to underwrite the cost of building officialdom per se.  Private certification is very worthy of consideration in progressive economies because it can be augmented on a user pays basis. In Victoria regardless of whether one engages a municipal or private sector building surveyor the property owner has to retain and remunerate the said surveyor.
AUDITING, PROBITY AND WHO POLICES THE POLICEMAN
17. A key issue however is who polices the policeman. If it is accepted that the building official is the regulatory police person then it also has to be recognised that the system can either sink or swim on account of the power that is vested in this individual. It is therefore critical that holistic legislation has very strong probative controls that are designed to ensure that the building surveyor regardless of whether he or she is employed in the private or public sector discharges their obligations in a stellar fashion. The way to best achieve this outcome is to make it obligatory by law that building officials are annually audited by accredited government nominated auditors who can have access to their books, their records and their projects to ensure that everything that they certify is above board. There are models that exist in particular in Japan that are best practice on point.
18. In a world where austerity measures are finding greater expression in expenditure committees and local government, new ways of funding law enforcement are worthy of very serious consideration and the private certification model where the user pays modus operandi ensures that this cost is not visited upon local government agitates for consideration. Again I commend an examination of this system to Indian policy makers.
SWIFT APPELLATE SYSTEMS
19. Best practice building control legislation will always comprise of swift appellate and review mechanisms and systems. This ensures that whenever building approvals are rejected the act of Parliament will contain a fast track appeal mechanism that features peer reviewers and lawyers who can determine whether the building approval determination should have been rejected, upheld or altered with modifications. The best precedent that comes to mind is the traditional incarnation of the Building Appeals Board in Victoria. This body for the better part of two decades, a body that comprises of construction lawyers and ministerial nominated experts, brings to bear the complimentary skill sets that can 'adjudicate' on a building permit conundrum. The merits are speed and economy and elements within this type of system are worthy of consideration.
CONCLUSION
20. Best practice building regimes are in essence holistic. The building code and the technical regulations need to 'dance' with the umbrella act of Parliament. The holistic regime will only deliver a strong utilitarian dividend if it has in place the vital and complimentary components reminiscent in the holistic building control jigsaw puzzle.