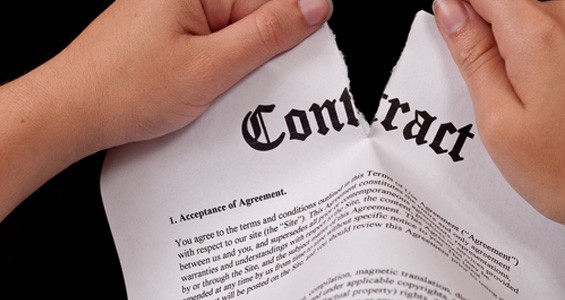 Building Contract Termination – Builders Guide
Authored by Lovegrove & Cotton Construction and Planning Lawyers
A Builder can only terminate a Building Contract if the Builder concerned has "rock solid" reasons to invoke the contractual termination procedure.
It would be rare for a builder not to enter into a written building contract with either a principal or a subcontractor. It would be illegal for a builder not to enter into a domestic building contract in many Australian jurisdictions where a residential abode is to be constructed. So for the purposes of this article it will be assumed that a builder has executed a domestic building contract.
The Mechanics Of The Termination Of A Domestic Building Contract
If the contract has been professionally drafted there will be contractual clauses that govern the contractual termination procedures. Typically, the termination road map, as it were, will bullet point what is required for the drafting and the service of a Notice of Default.
• The notice of default will site the relevant default provision(s).
• The notice of default will stipulate the reasons for the issue of such notice and the reasons will typically be stipulated in the contractual default provisions.
• Be very loath to import extraneous reasons that are not stipulated in the building contract as the consequences could prove to be dire in a court of law.
• The notice of default will ordinarily dictate that a stipulated number of days must be given to the other party, be it the subcontractor or the owner, to rectify the default. In the case of the subcontractor, the contractual reasons may be defective workmanship, wrongful suspension of building works or tardiness. In the case of the notice being served on the owner, the reasons may arise from tardy payment, failure to produce a building permit or other conduct that is repudiatory in nature. Examine the contract closely, the reasons should be there and don't stray from the 'leash' of the contractual imperatives.
• If the defaults are not remedied within the time periods stipulated the builder would ordinarily be able to terminate the building contract by way of a notice of termination by cross-referencing the relevant provisions of the building contract.
What If There Are No Termination Provisions In The Contract?
That is a "no man's land" paradigm and you must engage the services of expert construction lawyers' post-haste – expert construction lawyers' – www.lclawyers.com.au Absent conventional contractual provisions one requires practitioners endowed with the highest level of skill and legal "savvy" to extract you from this type of legal quagmire. Termination can be effected in these circumstances but only after providing comprehensive instructions and by way of a very carefully crafted instrument notwithstanding the likelihood of contractual termination in such circumstances being contested by the respondent at a later stage.
The Consequences Of Wrongful Termination
If a builder wrongfully terminates a building contract, that constitutes a repudiation of the contract which means evincing an intention to no longer to be bound by the contract. A party that repudiates will find themselves in a very invidious and potentially costly predicament in the relevant dispute resolution jurisdiction. Lovegrove & Cotton strongly caution builders and contractors to ensure that they do not adopt a layman approach to contractual termination. Builders and contractors alike when faced with the challenges of terminating a building contract are strongly advised to consult expert construction lawyers – www.lclawyers.com.au