Basics of Becoming a Standard Business Sponser
By Blaise Alexander, Solicitor and Registered Migration Agent, and Immigration Lawyer, Lovegrove Smith and Cotton
May 2014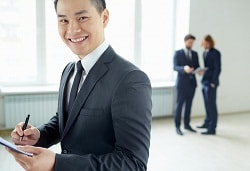 Temporary Work (skilled) (subclass 457) visa and standard business sponsorship:
Applying to be a standard business sponsor
This is the most common way to sponsor foreign skilled labour. To become a sponsor, you must lodge an application to become a standard business sponsor. A standard business sponsorship is usually valid for three years. You can apply for an extension at any time. There are several obligations required of a standard business sponsor, primarily aimed at ensuring that the business sponsor is operating legitimately and lawfully, and that the employees being sponsored are not replacing those available in the Australian market.
It should be noted that the obligations for establishing and maintaining sponsorship status are rather onerous, and many endure for several years after the sponsorship has expired. You are also responsible for the compliance of the visa holder you have nominated. The Department of Immigration and Border Protection (DIBP) conducts rigorous audits and inspections. It is recommended that you engage a professional to assist you in compliance with regulations.
You must be able to show that your business is operating lawfully and is not subject to any adverse information. To demonstrate this you must show both that your business is legally established and that it is actually operating, even if it is only for a short time. In other words a business that is only registered on paper does not satisfy the requirements for sponsorship.
You must show a genuine strong record and commitment to employing local labour. This relates to the purpose of the visa as to provide access to skilled foreign labour where there is a shortage of
Australian based skilled employees in relation to market demand.
You must show a commitment to Australia's non discriminatory employment and work practices.
You must agree to the number of foreign employees you propose to sponsor (although you can alter this number after the agreement has been made).
You must also meet benchmark training requirements. These requirements are to show that you have contributed to certain levels of training of Australian based employees, to ensure that foreign
labour employment is not an alternative to employing Australian labour.
A professional such as a solicitor who is a registered migration agent can prove an invaluable asset in establishing and maintaining these requirements.
Training benchmarks
If your business has been trading in Australia for more than 12 months, you must show you have a commitment to training local labour and have contributed to the training of Australians. You show this by meeting one of two benchmarks. This can be either:
Training benchmark A: recent expenditure (within the last 12 months) to the equivalent of at least two per cent of the payroll of the business, in payments allocated to an industry
training fund that operates in the same industry as the business
Training benchmark B: recent expenditure t(within the last 12 months) to the equivalent of at least one per cent of the payroll of the business, in the provision of training to employees
of the business who are Australian citizens or Australian permanent residents.
There are several ways to meet training benchmarks and a suitably qualified solicitor or RMA can provide assistance in developing an auditable plan to ensure you meet the benchmarks and remain compliant to your obligations as a standard business sponsor.
Sponsor Accreditation
For standard business sponsors who employ a significant number of foreign employees it is possible and even desirable to apply for accredited status as a business sponsor. A sponsor with a strong history of positive dealings with the Department of Immigration and Border Protection (DIBP), including a high volume of decision-ready applications and a good compliance record, can apply to be an accredited sponsor. The benefits of status of an accredited sponsor include extended sponsorship validity and priority processing of nominations and applications. A solicitor or RMA can assist in preparing an application for accredited sponsorship. It is also beneficial to use the same professional in your applications in order to establish consistency and a high standard in your sponsorship history. A good working relationship with the DIBP is a key asset in facilitating the employer sponsored visa process and this can be greatly enhanced by engaging the services of an RMA with a good history and relationship with the department.

The Lovegrove Smith & Cotton E-Library is a free online resource of articles, which puts a wealth of information at your finger tips. The articles in the E- Library have been written by lawyers and a number of them have been published in the Australian, The Age and the Herald Sun. Some of the articles date back to the 1990's. To access click here..
© Lovegrove Smith & Cotton 2014