Don't let OH&S Penalties collapse on your business!
By Peter Micevski, Solicitor Lovegrove Smith & Cotton
May 2014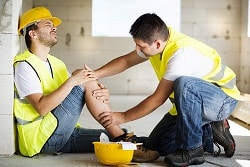 In the wake of recent construction site tragedies in Victoria, involving fatalities, senior construction company officers should be reminded of their obligations in regard to occupational health and safety ("OH&S"). Not only should company officers be reminded of their obligations with respect to OH&S, but they ought to be aware of the dire consequences of waiving OH&S standards. Such consequences are that they could be fined substantial sums of money, or worse be convicted of a criminal offence.
An example of the severe consequences that senior company officers may face where OH&S standards are not adhered to is a 2011 decision in the Victorian Court of Appeal.
In that case, a company was retained to undertake an extension and renovation project of the first floor of an existing building. During the course of the project, building materials were loaded onto a partially completed first floor of the building, where the support and reinforcement beams were not structurally sound. The beam supporting the first floor buckled, causing the building materials to drop to the ground floor resulting in one fatality and other injuries.
Consequently a senior officer of the company was prosecuted under s 21 of the Occupational Health and Safety Act 2004 (the Act) for failing to 'provide and maintain a safe working environment'. Conviction and fine of $60,000 ensued for his breach of the Act.
Section 32 of the Act prescribes a penalty of up to $265,698 for an individual ($1,328,490 for a company), five years imprisonment or where it is deemed appropriate both penalties, where an individual/company recklessly engage in conduct which occasions serious injury, illness or death.
Below is a way by which a respondent can deal with charges made under the Act.
What you can do to avoid being charged with an offence under the Act?
Engage an experienced lawyer to review your current OH&S standards and procedures to ensure that they are in line with current OH&S legislation.
If you are charged with an offence under the Act, pay careful consideration whether to plea or not to plea.
It is important that your lawyer is familiar with this jurisdiction, as it is very important to your case to decide when to contest and when to plea. A lawyer "on top of the game" in circumstances where the evidence is compelling, will get instructions to admit guilt, and produce arguments in mitigation with a view to attracting a temperate disposition on the part of the presiding judge.
Be learned, be straight and "don't gild the lily" and if guilt is a given, mitigate at all costs.
A good plea in mitigation for instance will evidence the following ingredients:
Contrition and remorse on the part of the contravener;
Cooperation;
Intimate knowledge of the facts and the law on point;
If no real or actual harm has been occasioned, submissions verifying that; and
Evidence that can be produced that verify the changes that have been introduced, systemically, to avoid repeat occurrence.
With this in mind, we cannot stress enough how important it is to avoid making representations in mitigation that cannot be substantiated.
The above plea criteria has been extracted from Conjoint Professor Kim Lovegrove, FAIB and Sav Korica's book 'Disciplinary Hearing and Advocacy' pages 63-64.
For more information and assistance, please contact Lovegrove Smith & Cotton
The Lovegrove Smith & Cotton E-Library is a free online resource of articles, which puts a wealth of information at your finger tips. The articles in the E- Library have been written by lawyers and a number of them have been published in the Australian, The Age and the Herald Sun. Some of the articles date back to the 1990's. To access click here.
© Lovegrove Smith & Cotton 2014
By Peter Micevski, solicitor, Lovegrove Smith & Cotton