Red Tape Reforms Broaden the Scope of Who Can Be a Building Surveyor
By Justin Cotton, Partner and Head of Practitioner Advocacy at Lovegrove Smith & Cotton
January 2014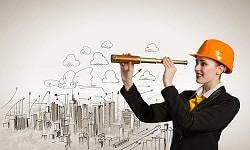 Up until now a building surveyor in Victoria, often referred to as the 'relevant building surveyor', has been regarded as being either a private individual (if a private building surveyor is used for a development), or alternatively the local Council ("the MBS") for the property where the works take place.
This is now set to change as the State Government in 2014 looks to broaden the scope of who can carry out the issuing of building permits and the other functions of the relevant building surveyor.
Changes afoot in building regulation are seeing greater reinforcement of consumer protection and also cuts to red tape in areas affecting the construction industry in Victoria. This is affecting all building practitioners and building surveyors are going to be significantly involved.
In January 2014 the State Government has announced several 'red tape' reforms after investigation has been made by the 'Red Tape Commissioner' in a range of business related spheres, including construction.
One critical measure has been in regard to approval for building permits. The current system requires an application to be made to either a private (individual) building surveyor or to the Council as the 'municipal building surveyor'.
Reforms this year will introduce more flexibility to allow the relevant building surveyor (RBS) to in some cases authorise another qualified building surveyor to sign a building permit approval in the RBS's absence.
This is somewhat akin to the current model in NSW, where a Construction Certificate (the NSW equivalent to a building permit) can be approved by an accredited certifier (ie a building surveyor) who need not be the accredited certifier with overall responsibility for the development (who is known as a Principal Certifying Authority).
A major departure is that corporations will soon also be able to act as a relevant building surveyor, rather than this role (at least in the private sphere) being restricted to natural person individuals. This will then entail the registration system through the VBA allowing companies to become registered as building surveyors rather than the registration being confined to individuals.
Again this development is not dissimilar from the NSW model, which allows a field of corporate accreditation, for companies to become accredited as certifiers in certain circumstances.
Amongst the 36 red tape reforms announced this month there are some others relevant to the construction industry. For example:
Commercial builder insurance: currently commercial builders must have insurance against defective work as a condition of their registration, but this requirement is set to be removed in
recognition that the Government considers that commercial builders can manage their own building risks;
Small live music venues: for works to renovate or alter in order to host live music, the permit and approval requirements are based on the Building Code classification 9(b). Small venues
wishing to carry out such works will get the benefit of simplified and reduced planning permit requirements.
These moves to reduce or in some cases eliminate 'red tape' have been hailed by some industry groups, such as the Master Builders Association of Victoria, who have said:
"This sensible package will help slash costs and delays in building projects and support housing affordability while upholding rigorous standards for site safety and building quality." (CEO of MBAV, Radley de Silva).
Building Surveyors should not expect that cuts to red tape are about making life easier for their profession however.
The newly formed VBA has been carrying out audits of building permits recently and has also taken responsibility for many building permits issued by some building surveyors whose registrations have been cancelled.
The VBA has recently flagged they are particularly concerned about Alternative Solutions in regard to fire performance obligations under the Building Code. They are said to be concerned to ensure that such Alternative Solutions are undertaken only by registered fire safety engineers and are independently checked and certified by another registered fire engineer or an independent registered building surveyor.
Given that Alternative Solutions are considered to be design work, the VBA has emphasised that the RBS must be independent from the design and cannot be involved in the creation or preparation of an Alternative Solution where they are going to be involved in certifying the same.
If in any doubt of your responsibilities or the risks in this area, you should seek prompt legal advice from construction lawyer experts in the field.
By Justin Cotton, Partner and head of practitioner advocacy
Lovegrove Smith & Cotton
Ph 03 9600 1643
www.lclawyers.com.au
The Lovegrove Smith & Cotton E-Library is a free online resource of articles, which puts a wealth of information at your finger tips. The articles in the E- Library have been written by lawyers and a number of them have been published in the Australian, The Age and the Herald Sun. Some of the articles date back to the 1990's. To access click here.
© Lovegrove Smith & Cotton 2014